Gerolde Scharnieren is de algemene verzamelnaam voor alle scharnieren met een knoop, ook wel kraal genoemd. Met gerolde scharnieren wordt bedoeld dat het scharnier is ontstaan door het 'rollen' van het metaal. Dit rollen is een persbewerking. Met speciaal kraalgereedschap wordt een rolling aangebracht in beide scharnierhelften. Deze scharnierhelften worden vervolgens gekalibreerd voor de juiste pendiameter.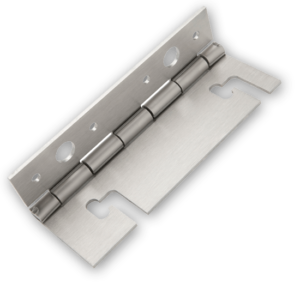 Maatwerk gerold scharnier nodig?
Bent u op zoek naar maatwerk gerolde scharnieren? Wij produceren gerolde scharnieren voor diverse toepassingen, geheel klantspecifiek.
Bij BOSCH Scharnieren is namelijk alles maatwerk. Daarom hebben wij ook geen catalogus. De mogelijkheden worden alleen beperkt door uw verbeelding. U bedenkt het, wij maken het. Van kleine tot grote series, van eenvoudig tot complex. Met snelle levertijden bovendien, dankzij onze gestroomlijnde productieprocessen. Of de scharnieren nu extra dik, groot of flexibel moeten zijn: maatwerk, snel geleverd. Wilt u 25 of 2500 stuks?
Knoop
De knoop van het scharnier is het cirkelvormige deel. Ook kraal, lus of knokkel genoemd. De knopen van de twee verschillende bledden wisselen elkaar doorgaans af om de pen heen.
1 of 10
Pen
De pen verbindt de twee (of meer) scharnier bledden.
2 of 10
De pen diameter bepaalt de dikte van de pen, gemeten in de doorsnede.
3 of 10
Bled
Het bled of het blad van het scharnier is het draaiende of vaste deel van een scharnier.
4 of 10
De bled breedte is de afstand van het uiteinde van het bled tot het hart van de pen.
5 of 10
De bled dikte is de dikte van het scharnier.
6 of 10
De scharnierbreedte is de totale breedte van het opengeklapte scharnier: gemeten haaks op de pen.
7 of 10
De knoop lengte is de lengte van het ene uiteinde tot het andere uiteinde van één enkele knoop, evenwijdig aan de pen. Doorgaans is dat een vaste maat, bv. 30mm, 25 mm, 20mm, enz.
8 of 10
De end play is de lichte axiale beweging tussen de knopen over de as van de pen. Deze wordt veroorzaakt door de kleine ruimte tussen de knopen, die ervoor zorgen dat het bled kan scharnieren.
9 of 10
De scharnierlengte is de totale lengte van het scharnier gemeten over de bledden evenwijdig aan de pen.
10 of 10