Een bijzondere vorm van scharnierende platen zijn transportbandschakels. Wij zijn gespecialiseerd in het produceren van eindloze transportband-schakels (niet in segmenten).
Nauwe toleranties en een projectmatige aanpak zijn de eisen, die de klanten aan ons stellen. De transportbandschakels kunnen geproduceerd worden in zowel staal als roestvast staal. De schakels kunnen bovendien voorzien worden van een door u gewenste perforatie.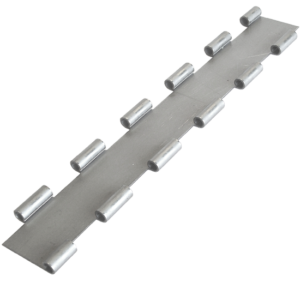 Transportbanden voor de voedingsmiddelenindustrie
Bent u op zoek naar maatwerk transportbandschakels? Wij produceren transportbandschakels voor diverse toepassingen, geheel klantspecifiek.
Zo zijn de transportbanden voor de voedingsmiddelenindustrie heel divers. Elke transportband dient aan verschillende productspecifieke eigenschappen te voldoen, denk bijvoorbeeld aan voedselveiligheidsnormen, reiniging en temperatuurverschillen van de producten.
Wij hebben daarom speciale scharnierende platenbanden ontwikkeld, opgebouwd met onze transportbandschakels uit één stuk, voor een breedte van meer dan 2000 mm. Hierbij zijn geen andere ondersteuningen nodig dan aan de zijkanten. Ook hebben wij banden gebouwd om verontreinigingen van 1mm grootte te filteren.
Al onze modellen worden specifiek voor uw project op maat gemaakt.
Knoop
De knoop van het scharnier is het cirkelvormige deel. Ook kraal, lus of knokkel genoemd. De knopen van de twee verschillende bledden wisselen elkaar doorgaans af om de pen heen.
1 of 10
Pen
De pen verbindt de twee (of meer) scharnier bledden.
2 of 10
De pen diameter bepaalt de dikte van de pen, gemeten in de doorsnede.
3 of 10
Bled
Het bled of het blad van het scharnier is het draaiende of vaste deel van een scharnier.
4 of 10
De bled breedte is de afstand van het uiteinde van het bled tot het hart van de pen.
5 of 10
De bled dikte is de dikte van het scharnier.
6 of 10
De scharnierbreedte is de totale breedte van het opengeklapte scharnier: gemeten haaks op de pen.
7 of 10
De knoop lengte is de lengte van het ene uiteinde tot het andere uiteinde van één enkele knoop, evenwijdig aan de pen. Doorgaans is dat een vaste maat, bv. 30mm, 25 mm, 20mm, enz.
8 of 10
De end play is de lichte axiale beweging tussen de knopen over de as van de pen. Deze wordt veroorzaakt door de kleine ruimte tussen de knopen, die ervoor zorgen dat het bled kan scharnieren.
9 of 10
De scharnierlengte is de totale lengte van het scharnier gemeten over de bledden evenwijdig aan de pen.
10 of 10